Ultrasonic Cutting
Multineedle Lock-StitchMultineedle Chain-StitchSingle NeedleCutting DevicesFeeding SystemsPackaging MachineBordermachinesYarn & Accessories
PANELMASTER ULTRASONIC powered by Jentschmann AG
VIDEO

CATALOGUE



INCREASE YOUR EFFICIENCY

The PANELMASTER ULTRASONIC is an innovative ultrasonic cutting and welding machine for cutting and closing mattress panels and blankets.
With its highly developed ultrasonic heads for edge and cross cutting instead of complex and high-maintenance sewing heads and
its working speed up to 6 panels / minute offers DAHMEN the worlwide most efficient solution for producing mattress panels and blankets.

The following innovations highlights the main characteristics of the PANELMASTER ULTRASONIC: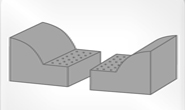 Automatic Cutting And Closing

of edges for length and cross cut in one process



Working Speed

up to 6 panels / minute



No Thread Consumption

no needles, no hooks, no sewing accessories

Low maintenance


Elektronic Adjustments

to different materials


Expandable

to 6 ultrasonic edge cutters for producing borders or pillows


Please find additonal technical details in our product brochures.