Mattress & Bedding
GarmentsTechnical TextilesUpholstery & Others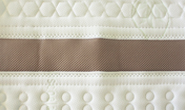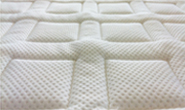 DAHMEN´s broad portfolio of textile machines are specially focused on the needs of the mattress and bedding production.
From small production to 3 shift, 24h - production our machines work efficiently, with high quality, reliably and cost-optimized.
We can offer our customer feeding systems for instance for the production with a carding machine, multineedle quilting machines (lock-stitch and chain-stitch), single-needle quilting machines, bordermachines, cutting devices, ultrasonic cutting device, packaging machines and needles and threads; DAHMEN offers you optimized solutions for your mattress and bedding production.