Our goal is to meet and exceed our customers´expectations!




DAHMEN is successfully established as the leading manufacturer of multi-needle quilting machines (double lock-stitch machines as well as chain-stitch machines) in Europe as well as on the global market. More than 800 machines were sold and operate around the world. All machine parts are purchased in Europe with parts from Germany accounting for about 95% of them.
We are constantly searching for the best solutions for our customers. In order to achieve that we cooperate with partners and specialists which are leading in their fields of expertise like control engineering and automation, materials, surface engineering, needle systems and threads, as well as operations analysis and consultancy. DAHMEN also participates in numerous joint R&D projects.
Besides the established and successful models STEPPOMAT, ECOMAT, QUILTTRONIC, FASTTRONIC and CHAINTRONIC we offer additional components and equipment for PRE- AND POST PROCESSING. In addition, our customers may select from a broad portfolio of ACCESSORIES for our quilting machines.
Select reference customers enable you to gain insight into the current textile machinery generation as well as optimized production flows around the globe.

OUR LONG-TERM EXPERIENCE IS YOUR COMPETITIVE ADVANTAGE

Do not hesitate to contact us - we will be happy to assist and advise you.




HISTORY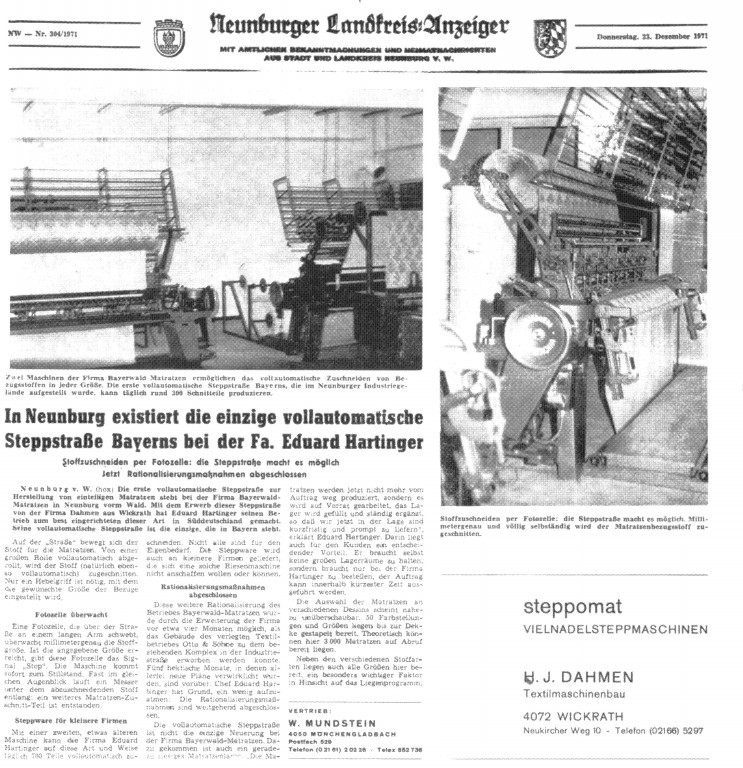 More than 50 years of know-how and experience

It was back in the 50s when DAHMEN was the first company to start manufacturing multi-needle quilting machines Europe. In the early days the company started under the name PARADIS but since 1971 when we changed the name to DAHMEN Textile Machines we are one of the leading manufacturers of quilting machines in Europe, als well as elsewhere in the world. By now the name DAHMEN stands for high-quality, high-performance multi-needle quilting machines and continuous improvement and innovation in technology - worldwide.

In 1993 Peter Ringhut acquired the company and focused the organization on even more innovation and more customer orientation. Besides the existing product portfolio at that time encompassing the model series STEPPOMAT new electronically controlled models were introduced like ECOMAT, QUILTTRONIC, FASTTRONIC as well as the chain-stitch machine CHAINTRONIC. For more than 50 years we are not only professionals in manufacturing and distribution of quilting machines but we also serve our customers as consultants in terms of process optimization, factory and logistics layout and machine setup.

Not everyone in the world knows DAHMEN. But those who do, know that DAHMEN is the perfect combination of a unique know-how in machine design and manufacturing as well as experience in optimizing production processes..